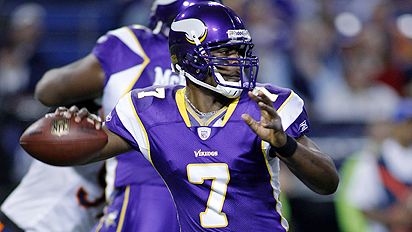 Vikings QB Tarvaris Jackson has had to sit back the past few days and listen to all the Brett Favre talk, just like everyone else in the league.  The difference for him is that it could be his job that is lost if all the rumors about Favre wanting to play in the Twin Cities are true, and somehow, someway, the future Hall of Fame's QB wishes come true and the Pack releases him to sign with the Vikings.
Jackson has now finally spoken, telling the St. Paul Pioneer Press the following about his thoughts when it comes to Favre and the possibility of him coming to the Vikings.  "You know me, if it happens, it happens," Jackson said.  "I can't control it, but I don't worry about it.  All I can do is handle my business.  It's my team until coach [Childress] tells me otherwise.  That's how I look at it.  We're looking forward to a great season.  I keep up with it because I'm a sports fan.  But every time a quarterback comes up, they throw me in there.  It's nothing new.  I know what's going on inside the organization.  We're a family.  We don't worry about what people outside the organization feel."
Jackson has been getting the support of the coaches and front office for the last year, but you have to know if Minnesota can find a way to get Favre, they would, and for now, it would cost Jackson his job.  Maybe in the end all the talk about Favre in Minnesota will only help Jackson be more motivated to play better and finally reach that potential that many have waited to see from him.